Salinity in Australia
Home

Thanks to all those who have produced the photos or art work on this page. If your work is displayed without a link to your site, please send me the link and your photo can become a link.
We should all know something about salinity.
Although Australian native trees are used to high salt conditions, they cannot survive when salt is brought near the surface by rising water tables.
www.abc.net.au/science/slab/salinity/default.htm
Water and Land Salinity
The Murray-Darling Basin is a naturally saline environment in terms of its soils, geology, surface water and groundwater. Especially in the western parts, high salinities and turbidities have always
Murray-Darling Basin Initiative
SALINITY IN AUSTRALIA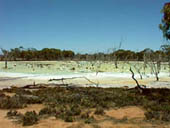 Environment Australia - Land Management
Monitoring the white death � soil salinity
NATIONAL DRYLAND SALINITY PROGRAM

SALT CONTROL SOUTH AUSTRALIA
NATIONAL ACTION PLAN FOR SALINITY AND WATER QUALITY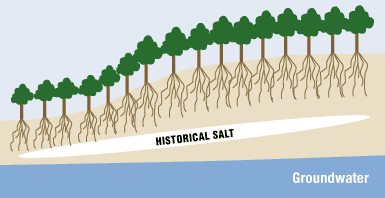 Salinity in Western Australia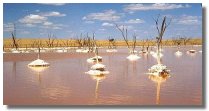 Department Of Agriculture (Western Australia)
Fast Facts 21. Dryland Salinity in Australia - key findings
National Land and Water Resources Audit